Two days before Max went in for surgery, we got this surprise: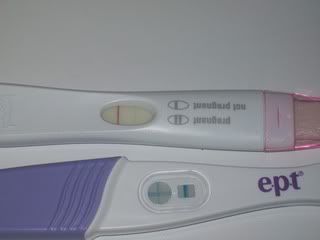 To say we were stunned would be an understatement.
Today, after about four weeks of letting the idea settle in a little, we had a brief ultrasound that showed us that there is a new little someone with a happy little heartbeat who will be joining our family in December.
Still feeling a bit stunned and more than a little overwhelmed, and glad that babies take nine months to cook so Tom and I have some time to get used to the idea. The girls are wishing for a baby sister, of course, and haven't stopped talking about it since we told them this morning. Tom and I have bets on another boy. The baby's heartrate at the ultrasound today was in the 150's, so the little stinker isn't giving anything away!
I am glad that, after two miscarraiges, there is actually a baby with a heartbeat. And I am also glad that there is not more than one baby with a heartbeat, despite all the dreams and premonitions I have had about twins lately.
So there you have it: my excuse for everything for the next seven months, including why my house is a disaster, my blog isn't interesting, and why I'm wearing maternity pants for the first time today. (Hey, this is pregnancy number six for me! I think my uterus just decided it was way too much work at this point and gave up early!) And now, I think I'm going to go eat some pickles and take a nap.